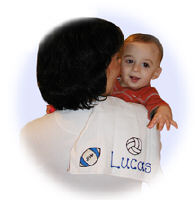 Extraordinary babies deserve special treatment every step of the way. That includes the finest accessories.
BURPIES™ Burp Cloths
You don't ask baby for much. So make sure they know your plea for a little burp now and then is sincere. A raggy old diaper or wash rag tossed over the shoulder? Not for that special baby! But a custom-designed burpie…it's just the ticket for making sure they know how much you long for that precious little "urrrp."
With their perfect blending of practicality, fun, and yes, personalized luxury, the hand-painted burp cloths you'll find here will be among the most-used and most-

appreciated gifts any baby will receive. Whether you choose a single burpie or an entire wardrobe of whimsical wipes, you can be sure your present will be long remembered and forever cherished.
Each of our burpies is an unique work of art, attractive enough to be framed and hung in a baby's room or bath. But you'll want to put yours to work to handle anything that might come up while baby is feeding. High quality, absorbent 100% cotton caresses tender infant skin as it wipes little faces clean.
And because our burpies are so well made, they will stand up to years—no, make that generations—of daily use, catching whatever your favorite little one can dish out. Or burp up.
The Burpies.com Story
BURPIES™ were born in 1981years ago as a solution to a common problem.
When Eileen Angier took her son to playgroups, she always lost her burpie, since everyone used a white cloth diaper for spit-ups. She struck upon the idea to paint her son's name on the cloth diapers she used. Being artistic, she also painted designs on each diaper. When other parents saw the burpies, they had to have their own.
From those simple beginnings BURPIES™ grew into the source for hand-painted, personalized burping cloths. Eileen continued to hand paint original designs on burpies for 23 years as her company prospered. When she felt it was time to move on to new challenges, Eileen passed the business on to us. As long-time, loyal customers, we recognize the importance of maintaining the quality, original designs and service that Burpies' customers have enjoyed. In addition, we have added, and will continue to add, new designs and products.
Every BURPIES™ original design is hand painted on an all-cotton diaper with non-toxic paint. We stand behind our products with a 100 percent satisfaction guarantee. And don't worry about using your hand-painted burpie for spit ups; BURPIES™ can be machine washed in cold water and tumble-dried on low. Each 15 by 20 inch burpie comes neatly tied with ribbon, making a great personalized baby gift.